FLEET PERFORMANCE CONTRACTS
Shipowners and operators are looking for ways to improve fleet efficiency and cut costs. Strategic planning has crossed the parameters of Fuel prices and now more focus is on conservation of Anti fouling system and reducing the drag on moving vessels. The concept of TOTAL QUALITY MANAGEMENT is being applied and more attention is being paid to total ownership cost of a vessel or fleet. Extending the drydocking interval is becoming a reality, with hull paint performance being a major deciding factor. The effects of shipping on the marine environment and the atmosphere are receiving more and more attention.
Mola Subsea Services (MSS) provides a means to drastically improving efficiency in fleet
performance from the water level down. Globally available high-quality hull monitoring,
inspection, maintenance and repair help shipowners save fuel and keep their ship hulls,
propellers and underwater features  all operating at optimum levels.
We offer special FLEET PERFORMANCE CONTRACTS to our customers by offering Special prices to them. Advantages of Fleet Contracts include:
We offer discounted rates in Fleet contract as compared to our quotations for individual enquiries
We will

provide

 

priority to your vessels in case we have multiple jobs falling on same date.
Contract will enable you to calculate the price of the operation which is going to be
performed so you don't have to ask us quotation for each and every operation and that will enhance your Budgetary Planning as well.
Follow up is smoother for your company if same company attends in same port again so the Performance Measure can be done easily with appropriate records.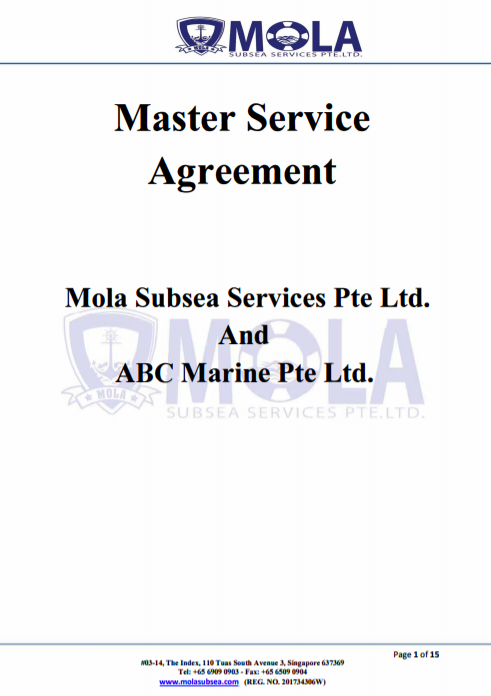 Please feel free to contact us for an instant quote

110 Tuas South Ave 3, #03-14 The Index, Singapore 637369
Copyright © 2023 Mola Subsea.
Powered by GeNexTech